Print Reverse Triangle Bridge Pattern for Characters in C++
Reverse Triangle Bridge Pattern looks like as: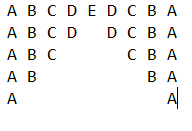 To print this pattern, we can use ASCII codes of the corresponding characters to print them. Our program accepts the input of largest alphabet value in the pattern (e.g., C=3, E=5). Above Pattern shows the constant width/spacing in both the reverse triangles. By using if, else if and else statement within the nesting of for loop gives the desired result.
---