Print All Nodes that don't have Sibling
Given a Binary Tree write a program to print the nodes which don't have a sibling node. Print all the nodes separated by space which don't have sibling in the tree in sorted order if every node has a tree than print -1.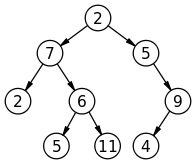 Explanation with example:
What is having sibling in tree?
A child node is said to have a sibling if the other node has the same parent as the child node. That means the nodes are siblings if they have same parent.
Like in the above example '2' & '6' are siblings as they have the same parent '7'.
In the above example the nodes that don't have siblings are: 9, 4
Thus output:
4, 9 (sorted)
N.B: Root is not considered for sibling checking.
---