Root to leaf Path Sum
Given a Binary Tree T and a sum S, write a program to check whether there is a root to leaf path in that tree with the input sum S.
Example: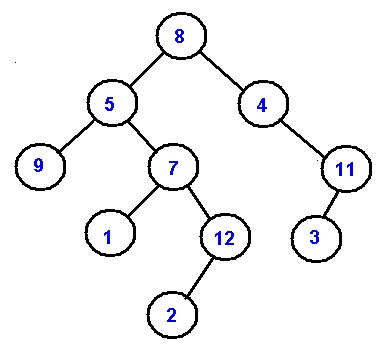 Fig: Binary Tree
In the above example, the root is 8 & the leaf nodes are 9,1,2,3. There are many root to leaf paths like:
8->5->9
8->5->7->1
8->5->7->12->2
And so on.
The sum for a root to leaf path is the sum of all intermediate nodes, the root & leaf node, i.e., sum of all the nodes on the path. Like for the first path in the above example the root to leaf path sum is 22 (8+5+9)
Our program must be to determine whether the given sum is same as anythe root to leaf path sum. There may be case that more than one root to leaf path has exactly same sum of S, but that's not of any concern, Our function is a Boolean function to return only yes or not on basis of input.
Let for an example input:
S= 26 & T be the above binary tree in example
Our program should return "YES" as there is a root to leaf path exists which is 8->4->11->3
S=8 & T be the above binary tree in example
Our program should return "NO" as there is no root to leaf path exists which has sum 8
---